Do you enjoy exploring on weekends looking for the best small-town breweries, wineries, or distilleries? Then this spring is the perfect time for you to get away to Southern Minnesota and experience the charming town of Wabasha. Combine your love of great tasting drinks with hiking, biking, boating or simply drinking at some of Minnesota's BEST establishments.
Bordering the bluffs of the Mississippi River on the Wisconsin side are some amazing wineries, breweries, and distilleries all within a short drive from Wabasha. But, if you want to get out of the city for a day or more, can you still find great places to enjoy? There are 10 great breweries, wineries, and distilleries worth visiting near Wabasha alone, and it all starts right here at Hoppy Girl Brewing.
Come visit us this spring, and sample some of the finest beer outside of the big city. Book your room at our Minnesota Bed and Breakfast today, Turning Waters Bed, Breakfast & Brewery.
10 Best Breweries, Wineries & Distilleries near Wabasha Minnesota
This spring, there are several reasons to visit the Wabasha area. The Soar with the Eagles celebration will kick off at the end of March 2023. For over 30 years, the National Eagle Center has rescued, rehabilitated, released, when possible, raptors back to the wild. Check out their live eagle cam! Come see for yourself and learn a great deal about eagles and the many varieties that call Southern Minnesota home. However, Wabasha is also a surprisingly great place to get a great beer!
Within an hour of Wabasha, there are several truly wonderful breweries, wineries & distilleries that are working hard to offer you several reasons to visit. Make an afternoon of visiting a few of these and enjoy the extraordinary spring scenery as you do. Here are 10 nearby places to visit within a 45-minute drive or less from Wabasha.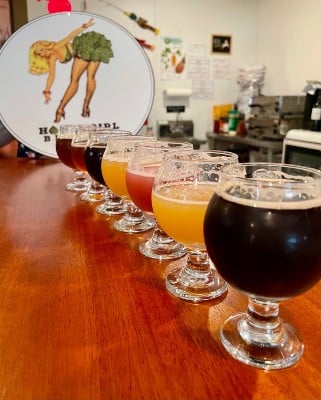 1. Your journey to great beer starts right here at the Turning Waters Bed and Breakfast. We own and operate Hoppy Girl Brewing in the backyard of our Inn. It is a trifecta, bed, breakfast, and brewery.
2. Enjoy great beer, dinner, and scenic river views at Reads Landing Brewery just 3 miles up the road from Hoppy Girl Brewing.
3. Head over the bridge between Wabasha and Nelson, Wisconsin and make a stop at Township 23 Distillery. The Hetrick family farms are now making amazing vodka spirits currently. You will be glad you stopped in.
4. Make your way to Pepin, WI, for an enjoyable time at Villa Bellezza Winery. Try a flight with a charcuterie board of delicious treats.
5. Continue the journey to Maiden Rock Winery & Cidery near Stockholm, WI. Cider is a gluten free alternative to beer.
6. As you head back toward Wabasha make a pit stop at Durand Brewing Company. You might get lucky and hear some live music while you are there.
7. If you are a wine lover then head down the Great River Road Wine Trail to Danzinger Vineyards in Alma, WI. Take in the beautiful Mississippi River Valley atop the bluff and make sure you visit Buena Vista Overlook!
8. Just a short drive down Highway 35 towards Trempealeau, WI, you will find Elmaro Vineyard. Enjoy the views of the vineyard or take in a yoga class or special shopping craft sales.
9. Down the highway a short drive is our friends at Island City Brewing Co. Make sure to tell them "hi" from Hoppy Girl.
10. Lastly, since you are in Winona be sure to drive up to Garvin Heights Vineyard & Winery and enjoy a quick stop as well at the overlook.
The Only Bed and Breakfast with a Brewery
If looking for fun, unique, and relaxing accommodations during your adventures to the Wabasha area, look no further than Turning Waters Bed and Breakfast. We're the only Wabasha lodging, let alone only Minnesota B&B, in the area that offers an on-site brewery. Travel here with friends, make new friends, and otherwise enjoy your time relaxing in the historic town of Wabasha. This spring is the perfect time to visit! Book your room at our Minnesota Bed and Breakfast today.