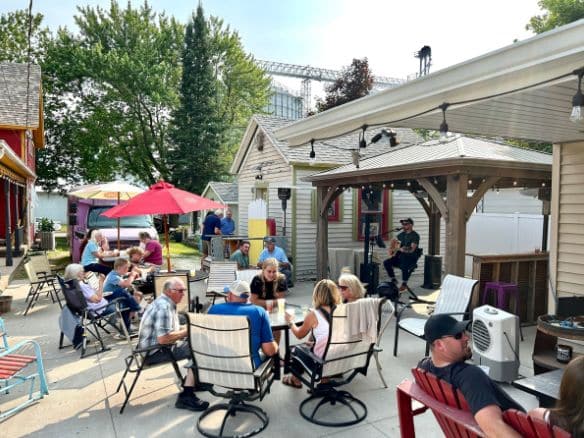 Why Staycation Locally?
Many Minnesota residents have only visited or explored a small fraction of what the state has to offer; staying locally is a good idea if you are looking to get away but not travel far. Save on travel costs, explore your backyard, and meet some new friends (who are local as well!)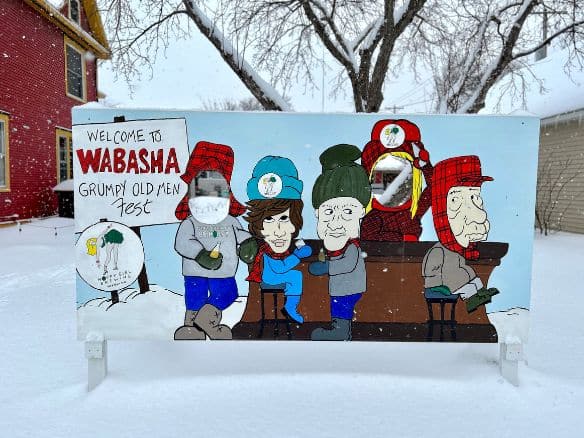 Why visit Minnesota as a Getaway Destination?
Minnesota is also known as the Land of 10,000 Lakes. This means if you like anything to do with water: boating, fishing, swimming, or any watersport, Minnesota is THE place to visit.
Well, what about Winter? Indeed, Minnesota can have some cold winters. That's a plus though, if you like the outdoors! Ice fishing, ice skating, hockey, snowmobiling, winter hiking, skiing, snowboarding, and so much more.
Suppose you're not a big outdoors person. In that case, our cozy little towns to larger urban cities offer a wealth of indoor things to do, from delicious restaurant offerings to museums, nature centers, breweries, antique shops, and more. And let's not forget all the indoor hockey rinks, whether you like to play or just like to watch!
Here are five reasons why Minnesota Bed and Breakfasts are the best places to stay during your next vacation!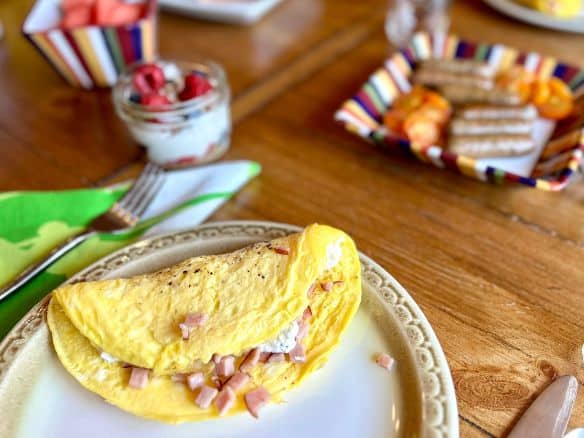 Breakfast
Breakfast, of course, is an obvious one. Starting the day with a good meal is one of the best things you can do for your body to keep it healthy. When you stay at a Minnesota Bed and Breakfast, you get a delicious, nutritious, healthy, and hearty (did we mention delicious?) home-cooked, specially prepared meal for you.
Start your day with a mouthwatering breakfast to give you the energy to hike, kayak, ski, or explore the Minnesota region.
Safety
Our B&Bs and Inns are our homes too. The kitchens are ones in which we prepare our own meals, the laundry where we do our clothes and linens is the same as the one in which we wash your sheets and towels, and the property, areas that we walk in every day.
Safety is a paramount concern to us because your home away from home during a vacation is our home ALL the time.
Yes, you could stay in a local Airbnb, but do you really know whether the linens were changed and every implement and fixture touched by a past renter was cleaned and sanitized? One also hears stories about break-ins, serious crimes, and other scary tellings from people who have used vacation rentals.
Our owners take the same care in ensuring your rooms are safe and clean as they do their own because, again, this is THEIR home.
Value
While you might find a local Airbnb with cheaper rates than a B&B, what do you "really" get for it? You 'might" get a home-cooked breakfast (but is it nutritious AND delicious?), or you might have to raid the pantry for some leftover Cheerios. You could stay at a hotel and pay $2 for a small bottle of spring water or enjoy free water bottles at most B&Bs.
Hotel breakfasts, you might get a Danish and be jonesing all day for a decent cup of coffee, or you could get a cup of hot delicious java at a B&B. In addition, Most of our B&Bs offer complimentary afternoon snacks and cookies, courtesy hot chocolate or cider by a roaring fire.
With all of the additional amenities (plus no added cleaning fee like most vacation rentals), you receive more value staying at a B&B than at a hotel, motel, or rental property. Plus, most of us have FREE WIFI!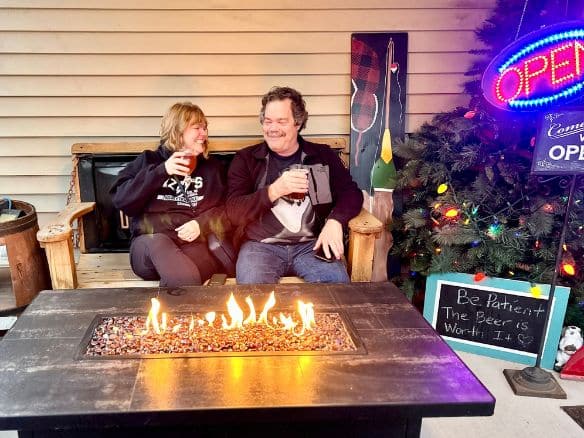 Local Expertise
If you are a local, do you REALLY know the best places to get a sandwich or the best local takeout? Do you know the best places to hike or the best ski rates? Your innkeepers do. If you're a local, have you really explored all that Minnesota has to offer? We bet you haven't!
If you're visiting Minnesota, you can read some guidebooks and do some Google research, but you will never have the real inside scoop on the best thing to do and see, the best places to eat and explore. Your innkeepers are happy to assist with suggestions.
Service
Because our properties are also our homes, expect warm, gracious service because we are not just "renting" out a room, we are welcoming you to stay with us. We take great pleasure in cooking you a fantastic breakfast, pointing out and guiding you on the best places to check out locally.
It's our job to make your vacation, whether you are a local or a visitor from out of state and just want a small getaway or romantic outing with your significant other, to make it as wonderful as possible, no matter how near or far away you may come from.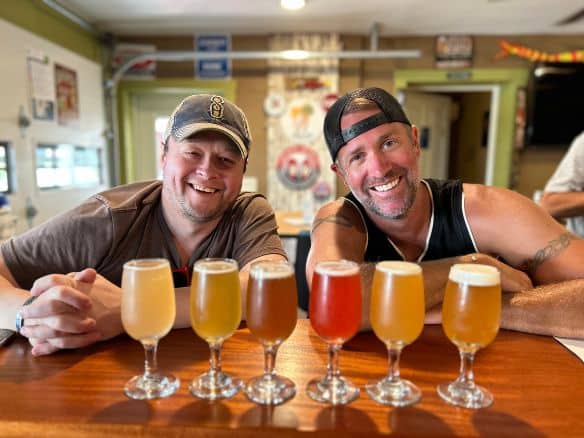 Unique
No B&B and Inn are alike; some are historic renovated properties, some sleek and modern, and some with cultural themes to appeal to niche interests. No cookie-cutter properties here; we reserve our cookie cutters to make delicious cookies for our guests.
Cozy nooks inside and out, gardens to enjoy, and deck chairs await you on gracious porches and lawns to enjoy scenic vistas of mountains, streams, rivers, one of our 10,000 lakes, or serene forest havens.
We await your visit with smiles. When you want to get away, please consider a Minnesota Bed and Breakfast for your next getaway!
Stays
We also want to mention our friends at The Urstad House Bed & Breakfast.
Nestled in the picturesque rolling hills of Kiester, Minnesota, The Urstad House Bed & Breakfast awaits to charm you with its eclectic style, a perfect blend of Victorian, Craftsman, and Modern influences. Two uniquely designed suites offer a delightful space for you to unwind and rejuvenate. Each room exudes its own personality, inviting you to curl up with a long-awaited novel that you have been waiting to read or to share a peaceful moment with a dear friend. The front porch invites you to bask in the warmth of Spring and Summer afternoons, enjoying some leisurely conversations with fellow guests over a refreshing glass of lemonade.
For theater enthusiasts, The Kee Theater promises an enjoyable time in Kiester, while Kiester Days offers yet another reason to join them for a memorable stay. Kiester Days offers a variety of entertainment like a car show, parade, a craft and vendor show and more.
Plan your tranquil and relaxing escape at The Urstad House Bed & Breakfast, where the year 1903 brings timeless charm to life through its lovingly cared for home and furnishings. The parlor, bathed in morning sunlight filtering through the bay window, provides the ideal spot to lose yourself in a good book, sipping a cup of freshly brewed coffee or tea. Delight in a sumptuous four-course homemade breakfast, prepared with locally sourced ingredients, delectable baked goods, and gourmet signature dishes that will leave your taste buds craving for more.
Stroll through the quaint village of Kiester, taking in the serene atmosphere and quiet streets that surround the bed and breakfast.  The warm and welcoming Innkeepers, Al and Hope, are always eager to recommend additional things to do in the area. Your stay at The Urstad House promises to be a one-of-a-kind experience, leaving you with cherished memories and a longing to return to this delightful haven of comfort and style.
A few recent reviews of the Urstad House B&B!
Undoubtedly, the Urstad House B&B deserves well above a 5 star rating. My stay was much beyond my expectations and was truly off the charts. The beautiful home, the attention to detail, the mouth watering breakfasts and the true hospitality shown to me during my visit by Al and Hope is something I'll always remember. A big thank you and I look forward to future stays at The Urstad House B&B.
Went for Kiester days this year after my grandmother sold her home some years ago. Hope and Al are the best hosts anyone could ask for. The turn of the century feel in this home is impeccable, and the breakfasts are to die for. If you want the full Kiester experience, this is the place to stay ! Thank you Al & Hope !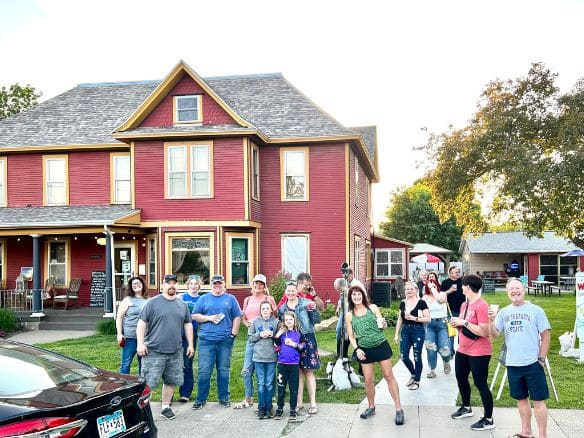 Of course we need to mention our own Turning Waters Bed and Breakfast, a charming retreat nestled in the heart of historic downtown Wabasha, MN. Steeped in history and character, our classic bed and breakfast is housed in a beautifully refurbished Arts and Crafts house, dating back to 1902. With three uniquely designed king suites and two queen rooms, our cozy accommodations offer the perfect blend of comfort and relaxation, making your stay feel like a home away from home. As the only bed and breakfast with a brewery on the premises, we invite you to indulge in the delightful flavors of Hoppy Girl Brewing while savoring the picturesque surroundings of the Mississippi River just a block away.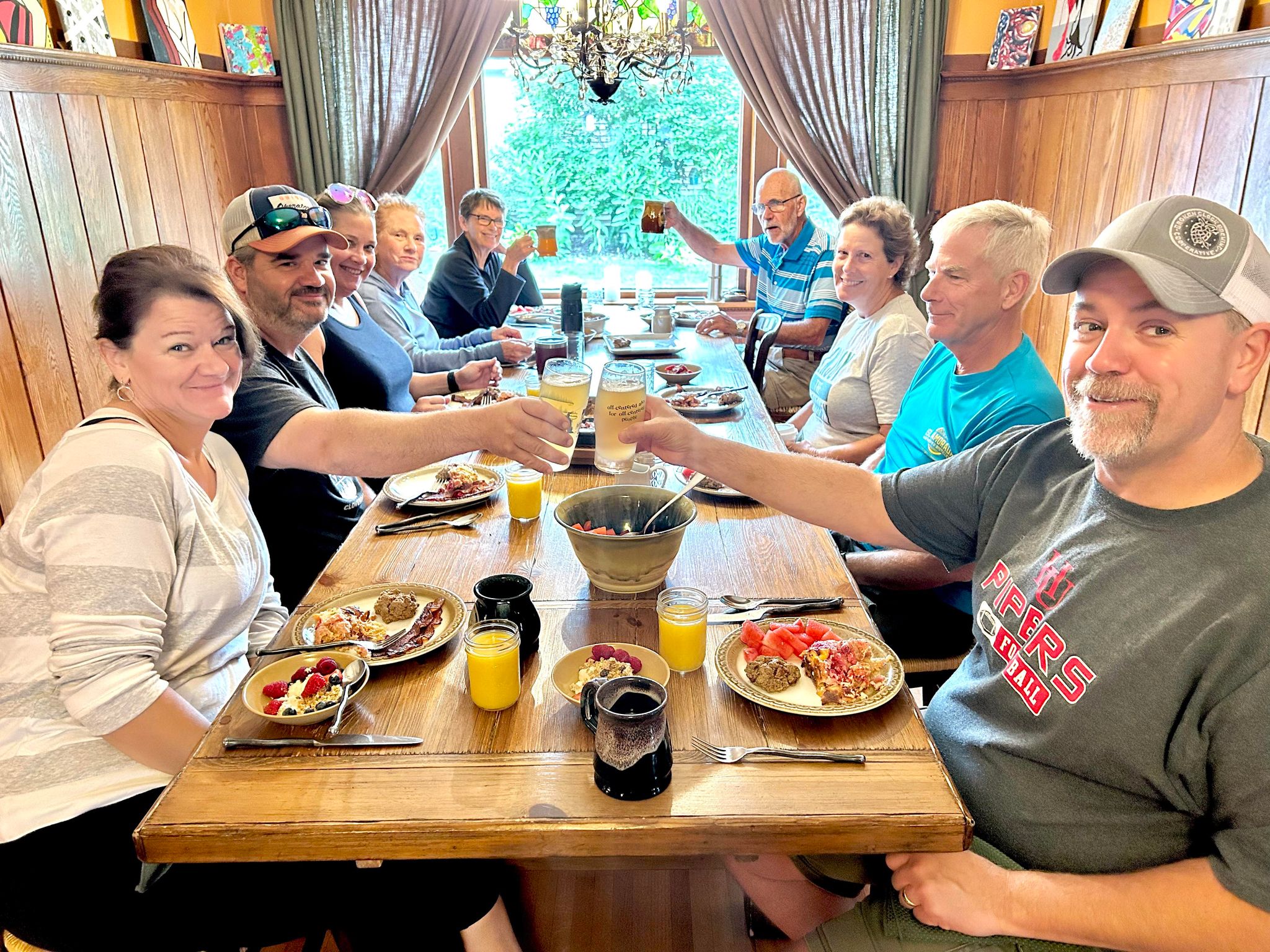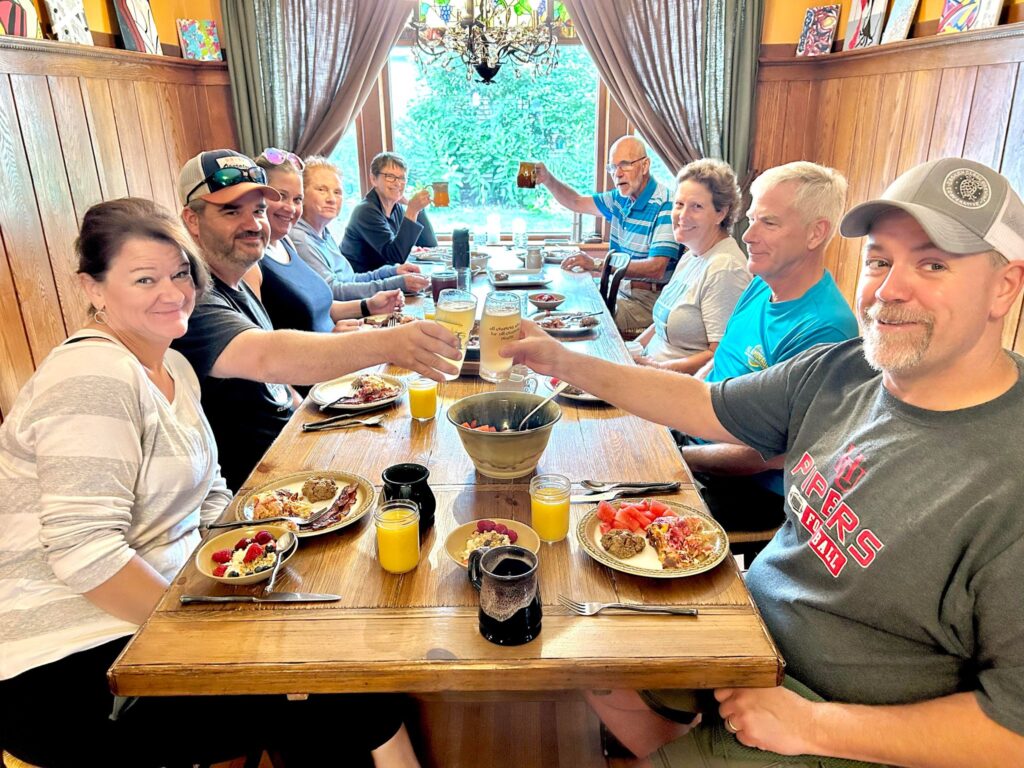 At Turning Waters, we take pride in offering a five-course, hearty, and healthy breakfast to fuel your adventures for the day. Whether you seek moments of tranquility, adventures outdoors or exploring local wine and brewery tours, we have it all covered.  With all modern amenities at your disposal, including private bathrooms, whirlpools, fireplaces, and more, you'll be pampered and cared for throughout your visit.
Whether you're seeking a romantic getaway, a thrilling adventure, or a serene relaxing escape, we can't wait to welcome you and ensure your time with us is truly unforgettable.
A few recent reviews of our B&B!
"Turning Waters is the Best bed and breakfast place we have ever stayed. The accommodations are excellent and a 5+ Star breakfast. The location is excellent, everything we did was within walking distance, 2-3 blocks. We would stay here over any hotel or motel. Thank you for the great hospitality."
"The breakfasts equaled or surpassed any 5-star restaurant. Brenda was exceedingly caring and helpful with those of us who were dealing with age and health issues and made our stay feel like home. I highly recommend Turning Waters to anyone looking for a place to relax and enjoy. The brewery is a happening place!!"
Minnesota has been named one of the friendliest states in the country; come experience it for yourself!